The Chargers have a very good chance of making the playoffs this season but face some tough opponents in the division. The top players will have to perform for them to stand a chance of playing deep into January and even February next year. Some players will stand out surprisingly, while some will likely disappoint, the question is who will and won't impress this year.
Players who will impress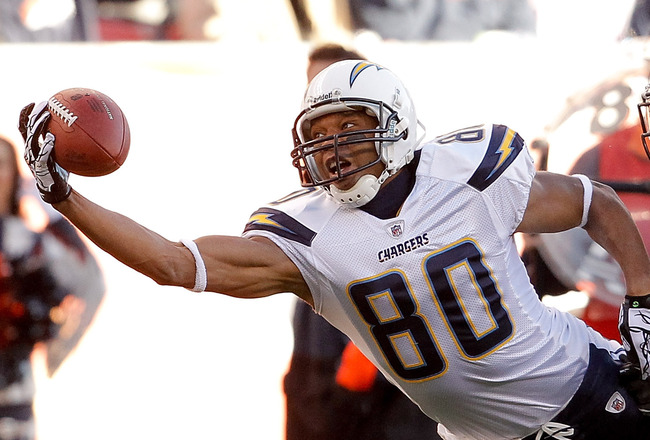 Malcom Floyd- Floyd will be put in a position too succeed for the Chargers this year. With Vincent Jackson leaving in free agency and Rivers likely to return to his old self, Floyd should be targeted by Rivers as his big go too guy like Jackson was last year. Meacham will compete with Floyd for the number one spot but either way Floyd will be targeted a lot. So long as he stays healthy (something he has struggled to do) expect Floyd to show the NFL how good he really is.
Melvin Ingram- Alongside DeCastro going to the Steelers, Ingram was the best value in the first round of the draft. He was one of the major draft day falls apparently due to his 'T-Rex' arms. Who cares? Ingram was a sack machine at college and should have been a top 10 pick. Melvin Ingram is also in the company of pass rusher Jared Allen, one of the best in the game, in having short arms which in my opinion proves that his arm length has been unfairly criticised. Don't be surprised if you see double digits in Melvin Ingram's sack column and maybe even a defensive MVP.
I expect these two guys to be the biggest surprises for the Chargers. I did not mention the likes of Eric Weddle, Phillip Rivers and others as we already know they are great players and don't have much room to improve.
Players who will disappoint
Quentin Jammer- By the start of the season Jammer will be 33 and it is fair to say his best years are behind him. He has been a decent number 1 for the Chargers over the years after being selected 5th overall in 2002. Although he might not have been worth number 5 overall, he certainly was a first round player. Last year however he began to look vulnerable and showed a lack of pace, he is no longer a number 1 cornerback as he is not physically fast enough to match up with younger recievers. He will likely see a large drop in performance and the likes of Antoine Cason will be expected to step up for the Chargers and become the new number 1 for the Chargers.
Corey Liuget- After being picked in the first round in 2011, the Chargers will want to see much more production from Liuget after a dissapointing rookie campaign. Although many people say it often takes at least 3 years for rookies to show their worth, I simply don't see a huge amount of talent in the defensive end. He showed very little on defence last year, and in my opinion has to go down as one of AJ Smith's less impressive picks.
These two players might impress however I had to choose the two who are most likely to not fulfill expectations. I don't expect some other Chargers players to perform like Larry English but his expectations are much lower.