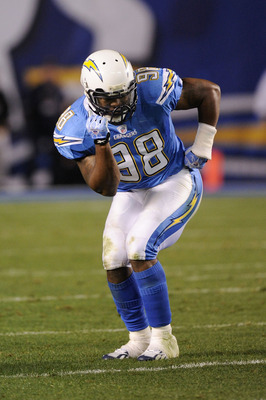 The Chargers have lacked pass rush threat over the past few years and have relied on 8 year veteran Shaun Phillips to provide the main pass rush threat from their linebacker corpse.
Coming off one of his best seasons in 2010 Phillips was disappointing in 2011 and failed to make a large impact for the team. In 2010 he had 11 sacks but in 2011 he had just 3.5 and missed four games to injury. Antwan Barnes who had a great season last year was the top pass rusher last season with an impressive 11 sacks.
With Barnes being 27 he is in the prime of his career and could well make a big impact on the defence and has a nice low price tag. Phillips with his much larger price tag is the wrong side of 30 and with the exception of Ray Lewis production tends to start dropping off at this stage for linebackers. I'm not saying we should cut Phillips as he is still a major part of the defence but it appears to me that he is no longer the premier linebacker for the Chargers and although he will be starting at ROLB he will see less snaps this year per game due to our off season additions of Jarrett Johnson and Melvin Ingram.
Phillips has been a great player for the Chargers and has managed 60 sacks for the team but don't be surprised if you don't see number number 95 on the field as often as you have done in previous years.