With Euro 2012 beginning and much of the world watching the tournament I thought to myself what would a Chargers Soccer team look like? As a Football and Soccer fan I decided to make a Charger Soccer team with a 4-4-2 system (1 Goal Keeper, 4 defenders, 4 midfielders and 2
attackers)
Goalkeeper- Malcom Floyd: The 6ft 5in WR would fill up most of the goal just with his arm span! He would catch nearrly every ball kicked at him and he's also great at diving (see photo). All together, Floyd would be a dominant goalkeeper in this squad.
Right Back- Shaun Phillips: Phillips is the perfect build for a right back. He can run a 4.69 40 yard dash and is a strong guy. He would be able to out muscle attackers and keep up with the wingers as the run down the sidelines. Phillips would provide Veteran leadership to the team.
Centre Back- Melvin Ingram: Being 6ft 1in and 264lb, Ingram would provide a physical presence in the middle of the field. He would out muscle strikers and and using his athleticism, out jump opposing players to header the ball out the box. He would be the mean defender who dominates opposition and show exactly why he is called #SuperMelvinCharged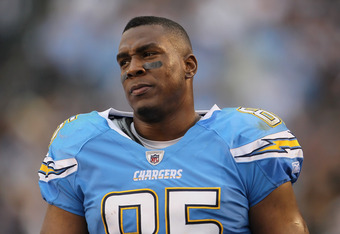 Centre Back- Antonio Gates: Like Ingram, Gates is a tall physical guy who will provide all those things listed above which Melvin would provide. Gates would also give the team winning experience and knowledge. Only problem is that in England it is known as football and the foot part for Gates might be a little tricky if he so much as kicks the ball (due to previous foot injuries)... Oh well he's Gates he can do anything!
Left Back- Robert Meacham: Meacham would act more like a wing back providing speed and skill to run down the touch line and put in some decent crosses. Although not as big or physical as the other defenders, he has quick feet so would get in some good tackles on the ground and reacting fast to the opposing teams attackers.
Central Midfielder- Nate Kaeding: Although not the most athletic player on the squad there is no denying his kicking ability. He would play a holding midfielder role making long passes around the park and making one or two powerful strikes from outside the box (that is assuming he doesn't tear his ACL on his first kick of the season!)
Central Midfielder- Eric Weddle: Weddle would be the playmaker from the midfield. His vision and awareness would allow him to find passes and then execute them. He would be a dominating central midfielder, so long as there aren't any offensive lineman around to juke him! (see link)
http://www.nfl.com/videos/nfl-game-highlights/09000d5d824c8dfe/With-a-Whimper
Right Wing- Marcus Gilchrist: One of the teams many playmakers, Gilchrist would be a speedy winger after running a 4.45 in his 40 yard dash. I can also imagine Gilchrist having some nifty footwork and some impressive dribbling skills.
Left Wing- Eddie Royal: Royal would be the small nippy player who jukes and jinks around players causing havoc on the defence. He would provide pace and be a spark on the offensive part on the team. Hopefully he can show the skills from this FOR the Chargers rather than against them!
http://www.youtube.com/watch?v=hfqFSFd4rTE
Centre Forward- Ryan Mathews: Mathews is my favourite soccer player on the team. He has everything a forward needs; Speed, Strength, Agility, Elusiveness, and vision. He would be a perfect fit at centre forward playing just off the striker.
Striker- Mike Schifres: The Chargers punter is one of the best in the league and combines accuracy and power to provide pin point punts inside the 20. This is all a striker needs if surrounded by physical talent as players will just get the ball to his feet and he can do the rest!